What they are saying about The Joyful Noiseletter
"The Joyful Noiseletter is packed with funny religious stories, plus a page of cartoons, that offer some of the choicest pickings for the pulpit, church bulletins, or dinner table fare."
—George W. Cornell, Religion Editor
The Associated Press
"Outstanding. This newsletter does what it's supposed to do – it makes you laugh. "Great fun! A joy to read! Useful to church newsletter editors, particularly."
—The Associated Church Press
"Chock-full of digestible tidbits. Highly readable and lots of fun. What a great publication!"
—Evangelical Press Association
"Here is humor that is reverent and relevant, comical but free of profanity and blasphemy so blatantly featured in the modern media. Impressive graphics and snappy writing fill this newsletter with life and wisdom."
—Catholic Press Association
"Reading The Joyful Noiseletter is like looking at a Norman Rockwell painting. You'll see touches of Americana from glimpses into how we used to be to reminders how we're still the same."
—Sandi Dolbee, Religion Editor
San Diego Union-Tribune
"JN is a rollicking good idea. We're grateful to its founders for reminding us of humor's rightful place in the life of faith."
—United Methodist Reporter
"The nondenominational JN ministry measures its success not by counting dollars, but by watching people laugh. JN's board of consulting editors includes not only respected Christian leaders, but also an array of denominational representations. JN prints only humor that is tasteful and reverent."
—Dan Runyon
Christianity Today
"JN represents a new generation of clergy, theologians, and comics whose mission is to recapture what they envision as the joyful world of the early Christians, in which the resurrection was a living memory… a movement to a more celebrative faith focusing on joy and fueled by humor."
—David Briggs
The Associated Press
"What a fellowship! What a joy divine! Who says you have to check your sense of humor at the vestibule door? JN is a terrific resource, a great gathering place for fun in Christ!"
—Liz Curtis Higgs
Best-selling author
"Congratulations on JN's 30th anniversary. I have read every issue for 30 years. I have all the back issues of JN ready for the library of the Patch Adams Teaching Center and Clinic for health professionals we are planning to build in West Virginia."
—Patch Adams, M.D.
Gesundheit Institute
"It is delightful to note the presence of JN in so many congregations across the land. JN's fame is widespread because it easily buries the concept of Christianity as a 'joykiller.' Truly, it's a 'joy-instiller,' as your witty comments, holy humor, and cartoons bring out in every issue. JN is the best humor publication in Christendom."
—Dr. Paul L. Maier
Best-selling Lutheran author
"Keep The Joyful Noiseletter coming. It's great!"
—Joe Garagiola
"What would be my advice to help pastors with their sermons? I would recommend they subscribe to The Joyful Noiseletter."
—Comedian Steve Allen
"What you have achieved over the past 30 years with that wonderful little publication is nothing short of outstanding. You have touched thousands of lives for the better and done it all out of one room in your home with an old-fashioned typewriter, and layouts done on a ping-pong table. Nothing less than having the Holy Spirit bless that ministry – with your talents – could have made it all work. A truly inspiriting legacy."
—Lou Jacquet
former editor of Our Sunday Visitor
and The Catholic Exponent,
Youngstown, OH
"What a treasury of HO-HO-HOly Humor! Let us bow our heads and laugh!"
—Bil Keane
creator of The Family Circus
"The Joyful Noiseletter is a gem!"
—Johnny Hart
creator of B.C.
"Last year I was given a copy of JN, and I really enjoyed it. After I read it, I put it in the men's room at our Quaker church. Thereafter, our Quaker silent worship was punctuated with laughter emanating from the men's room."
—Philip Gulley
Best-selling Quaker author
"A prominent European theologian once commented that Christianity has no humor. Anyone who thinks this way should subscribe without delay to The Joyful Noiseletter."
—Sherwood Eliot Wirt
Author, Jesus: Man of Joy
Billy Graham biographer
"Be assured that I will enjoy reading – and using – my own copies of JN."
—Most Reverend Timothy M. Dolan
Archbishop of New York
"I attended a Festival of Christian Humor sponsored by the Georgia Baptist Convention. They highly recommended The Joyful Noiseletter."
—Pastor Joel Smith
Hopeful Baptist Church
Camilla, GA
"JN's humor pieces and reproducible cartoons are far superior to what your competitors offer. It's an excellent and affordable resource."
—Doris Anderson
St. John Lutheran Church
Baltimore, MD
"It's been such a joy to receive JN all these years. You have truly been a 'hand' of God."
—Antoinette Bosco
Columnist, Catholic News Service
"Congratulations on your 30th anniversary. What a legacy!"
—Bobbe Lyon
Counselor, Lafflyon, LTD
Maitland, FL
"Thank you for bringing such joy into the lives of so many. Keep up the great work. Pope Francis would be proud of your efforts."
—Fr. William Zavaski
St. James Catholic Church
Arlington Heights, IL
"The Joyful Noiseletter is the best newsletter on the planet."
—Joseph Basehart
A clown in Aurora, CO
The Joyful Noiseletter is a voice laughing in the wilderness
An old church tradition says that Lazarus laughed heartily for years after Jesus raised him from the dead. That is why Lazarus' home in Bethany in the Holy Land is called "The House of Laughter."
We cordially invite you to join our "House of Joy and Laughter" and receive The Joyful Noiseletter.
JN subscribers have discovered that holy humor is a powerful healing, bridge-building, peacemaking, and evangelistic tool.
We are offering electronic subscriptions to The Joyful Noiseletter in addition to our printed version.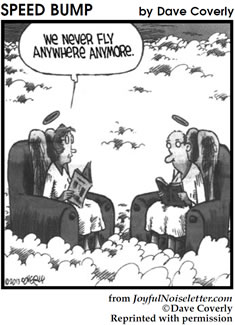 The electronic version is mailed as a PDF file directly to your e-mail inbox, where you can easily cut and paste the the articles, jokes, and cartoons directly into your church publications.
Click here to view a sample copy of the The Joyful Noiseletter
Here's what you will receive — without delay — when you subscribe to The Joyful Noiseletter:
An annual subscription to the expanded bimonthly Joyful Noiseletter.

Permission to use — without charge — all editorial items in JN, including cartoons, in your local church newsletter/bulletin, fliers, posters, and signs (for non-profit use only). And the cartoons may be reproduced on your church web site, too.

The Joyful Noiseletter's catalog.

A wallet-size print of "The Risen Christ by the Sea."
For you, only $29!
You may rest assured that your privacy will be protected. We have never sold or rented our mailing list or telephone numbers, and we do not pay telemarketers to call you at dinnertime (or any time).
Shopping Cart
Cart is empty
using our secure online store.

1 Year Subscription or Renewal — $29.00

1 Year Gift Subscription — $29.00

filling out the Printable Order Form and mailing it, along with your check for $29, to The Joyful Noiseletter, PO Box 895, Portage, MI 49081-0895 (foreign printed subscribers add $10).
calling TOLL-FREE, 1-800-877-2757, and using VISA, MasterCard, Discover, or American Express.