'A cheerful heart is a good medicine'
Proverbs 17:22
The jokes, anecdotes, and other editorial materials in The Joyful Noiseletter are reprintable in local church newsletters and bulletins of JN subscribers.
Here are a few of our favorite jokes and stories from The Joyful Noiseletter.

Out of the mouths of God's kids
A small boy told a Sunday school teacher: "When you die, God takes care of you like your parents did when you were alive — only God doesn't yell at you all the time."
— via Rev. Dennis R. Fakes
Lodi, CA
A woman invited some people to dinner. At the table, she turned to her six-year-old daughter and said, "Would you like to say the blessing?"
"I wouldn't know what to say," the little girl replied.
"Just say what you hear Mommy say," the mother said.
The little girl bowed her head and said: "Dear Lord, why on earth did I invite all these people to dinner?"
— via Charles Laine
Franklin, TN
A pastor was speaking to a group of second-graders about the resurrection of Jesus when one student asked, "What did Jesus say right after He came out of the grave?"
The pastor explained that the Gospels do not tell us what He said.
The hand of one little girl shot up. "I know what He said: He said, 'Tah-dah!'"
— via Andy Fisher
Denville, NJ
Signs and wonders
Sign on the outside wall of a Maryland convent: "Trespassers will be prosecuted to the fullest extent of the law."
— The Sisters of Mercy
Message on the outside sign of Faith Temple Church, Sioux Falls, SD: "We welcome all denominations — $1, $5, $10, $20, $50, $100."
— via Rev. Jeff Hayes
Bloopers that gnash the teeth
Blooper in a church bulletin: "The church had a going-away party for Pastor __________. The congregation was anxious to give him a little momentum."
— via Joseph A. Maher
Oxnard, CA
In the bulletin of St. Elizabeth Ann Seton Catholic Church, Palm Coast, FL: "We will have a Special Holiday Bingo & Dinner on Monday evening, Dec. 30. You will be given two bingo packs, which cover all games played, and your choice of children or roast beef for dinner."
— via Rev. Frederick R. Parke
From the Dalton (GA) Daily Citizen News: "John ________, ordained as a deamon, will pastor two churches in Fannin County."
— via Rev. Dustin Pennington
Dalton, GA
Rev. Robert A. Pollauf of Detroit passed on this account of how Daniel saved his life in the lion's den: King Nebuchadnezzar of Babylon was astonished that the hungry lions had not eaten Daniel. He summoned Daniel and promised him that if he would reveal his secret, the king would give him his freedom.
"It was easy, your excellency," Daniel said. "I went around and whispered in each lion's ear — 'After dinner, there will be speeches.'"
When a young minister was still single, he preached a sermon he entitled, "Rules for Raising Children." After he got married and had children of his own, he changed the title of the sermon to "Suggestions for Raising Children." When his children got to be teenagers, he stopped preaching on that subject altogether.
— Rev. Bernard Brunsting
A man had been shipwrecked on a remote island in the Pacific, and was alone for 20 years. When a ship finally arrived, his rescuers were impressed with the three buildings he had built and asked him about them.
"Well," the man replied, "this is my house, and that building over there is my church. It's a wonderful church and I hate to leave it."
"And what is the third building yonder?" a rescuer asked.
"Oh, that is the church I used to go to," the man replied.
— via Palmer Stiles
Melbourne, FL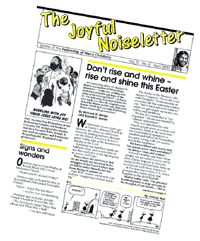 The Joyful Noiseletter was organized in 1985 to assist pastors, church leaders, and lay people in bringing more joy, humor, laughter, and celebration into the life of their churches and families.
The Joyful Noiseletter has been blessed with the wit and wisdom of many of America's most talented cartoonists. They include Bil Keane, creator of The Family Circus, Johnny Hart, creator of B.C., Cuyler Black, Dave Coverly, Jonny Hawkins, Harley Schwadron, Ed Sullivan, Mike Morgan, Dik LaPine, Doc Goodwin, Dennis Daniel, Scott A. Masear, Ron Morgan, Tim Oliphant, James Estes, Wendell Simons, and Larry Zanco. Their cartoons will enliven your church newsletter/ bulletin.
When you subscribe to The Joyful Noiseletter,you will receive a regular bonanza of reproducible cartoons.
Pastors and editors who are subscribers may reproduce all editorial materials, including cartoons, in The Joyful Noiseletter, in their local church publications and on their church web site, free-of-charge and without seeking permission.
Sample Cartoons from The Joyful Noiseletter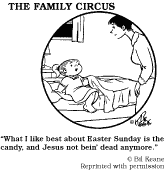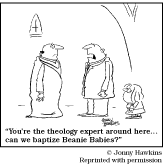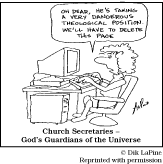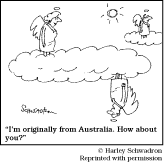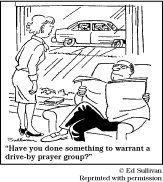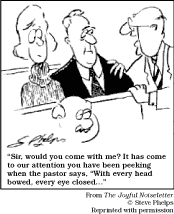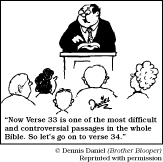 Shopping Cart
Cart is empty
using our secure online store.

1 Year Subscription or Renewal — $29.00

1 Year Gift Subscription — $29.00

filling out the Printable Order Form and mailing it, along with your check for $29, to The Joyful Noiseletter, PO Box 895, Portage, MI 49081-0895 (foreign printed subscribers add $10).
calling TOLL-FREE, 1-800-877-2757, and using VISA, MasterCard, Discover, or American Express.